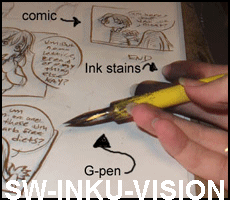 Name - SW-Inku Aka Stevie Wilson
Occupation - Comic major & free lance artist (= poor)
Age - 21
Tools - Quill pen, india ink, Tria-Prisma-Copic markers, watercolor, open canvas 3+, Adobe Photoshop, Wacom tablet and sleep depravation.
Obsessions - Comics comics comics comics, markers and more markers, web site design and caffeine enriched drinks.
Fave comics - Bleach by Kubo, Tactics by Kinoshita Sakura, Scott Pilgram by Bryan Lee O'malley, Antique bakery by Fumi Yoshinaga
Lives - NYC, USA
Rules to live by - Never hit a man 3 times your weight and 2 feet taller.
Bites - Only when provoked
E-mail - sw@genkiinc.net
Livejournal? Yes.
Other sites: GENKI INC.